STOCK MARKET FORECAST BY KPASTROAKELLA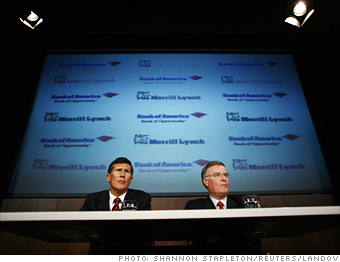 Merrill Lynch Chief Executive John Thain (left) and Bank of America CEO Kenneth Lewis sit during a news conference announcing the acquisition.
News that Lehman Brothers was on the brink of collapse and scrambling for a buyer
first surfaced
on Friday. But by Sunday, there were still no suitors for the 158-year old investment bank, and bankruptcy seemed inevitable. Indeed, just after midnight, in Monday's early hours, the firm officially announced its intention
to file for Chapter 11
.
Equally as staggering, just hours after reports surfaced that Bank of America broke off of talks to buy Lehman, BofA unleashed the news that
it would pay $50 billion
to scoop up Merrill Lynch, another iconic Wall Street name.
As if that weren't enough, American International Group, the nation's largest insurer, said that it planned
to sell some of its troubled assets
in order to raise cash and boost investor confidence.
Concerns about the credit crisis grew increasingly dire, even though the government had already pledged to backstop Fannie Mae and Freddie Mac up to $200 billion just one week ago, and months earlier engineered JP Morgan's purchase of Bear Stearn's with a $29 billion guarantee.
But it looked like that wouldn't be enough, so Sunday afternoon the Federal Reserve, along with 10 banks, announced a $70 billion pool of funds to aid troubled financial firms. The U.S. central bank also loosened its lending restrictions.
NEXT: Monday, Sept. 15 - The collapse
Monday, Sept. 15 - The collapse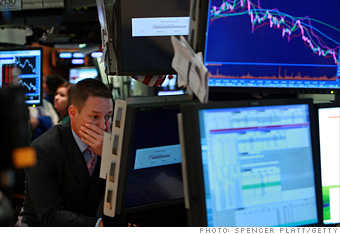 As traders sold off stocks on the weekend's dour news, rumors began to circulate that AIG was struggling to raise enough capital to fend off a downgrade. As a result, New York Governor David Paterson bent intra-corporation lending rules, allowing the company to loan itself $20 billion from a subsidiary.
In the worst day on Wall Street in seven years, the Dow Jones industrial average
tanked more than 500 points
after Lehman Brothers' epic collapse of the buyout of Merrill Lynch
By Monday night, AIG
was in fact hit with a downgrade
, as Fitch bumped the insurance group down a notch. With $1.1 trillion in assets and 74 million clients in 130 countries, investors feared AIG's collapse would severely hurt consumers and further tighten already strangled credit.
Also Monday, news cropped up that the nation's largest savings bank, Washington Mutual was in search of a white knight.
NEXT: Tuesday, Sept. 16 - The Fed steps in
Tuesday, Sept. 16 - The Fed steps in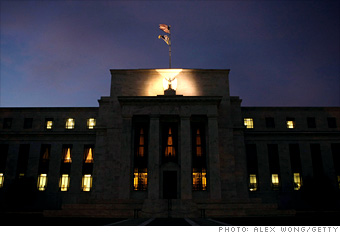 The Federal Reserve, Washington D.C.
Stocks saw another sharp drop on Tuesday morning as worries mounted that the financial system was broken beyond repair. Investors poured money into bonds, and the yield on the benchmark 10-year Treasury note fell to
a 5-year low
.
Next, several rock-solid money market funds began to falter, dipping below the $1 per share benchmark.
Meanwhile the Fed was scheduled to meet on Tuesday afternoon. Wall Street analysts, who just a week ago expected the Fed to hold rates steady, began to anticipate a rate cut. But the central bank chose not to succumb to panic and unanimously decided
to hold rates steady at 2%
.
Markets cheered the decision, and the Dow jumped
140 points at the close
.
After the bell, British bank Barclays agreed to buy up $2 billion worth of Lehman's brokerage assets and real estate holdings, and Morgan Stanley reported
better-than-expected earnings
.
But the big news came later that night when the government announced that it would stage a staggering
$85 billion bailout of AIG
, and take an 80% stake in the company.
NEXT: Wednesday, Sept. 17 - Another free fall
Wednesday, Sept. 17 - Another free fall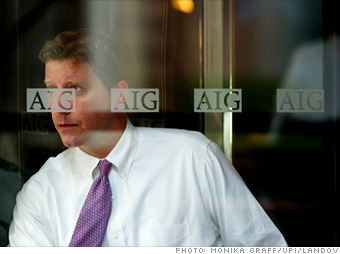 An employee exits the American International Group building in New York on Wednesday after the government bailed out the insurance company.
Investors gave an enormous thumbs-down to the AIG news, sending stocks plummeting, while traders piled funds into safer havens. Gold rose $70,
a new record
. Oil rose $6, its
second-largest jump ever
. And the yield on the three-month Treasury sank to 0.02%, the
lowest level since 1940
.
The Dow dropped
450 points
by the end of the day, dragged down by bank stocks in a tail-spin. Despite reporting
better-than-expected results
, Goldman Sachs shares dipped below $100 a share for the first time since 2005. Morgan Stanley took a tumble as well, as rumors circulated that it would merge
with troubled bank Wachovia
.
Many Wall Street analysts blamed the stock market's collapses on so-called "naked" short sellers, who short stocks without ever buying the security. Subsequently, the U.S. Securities and Exchange Commission stepped in and
banned naked short selling
.
NEXT: Thursday, Sept. 18 - The bailout
Thursday, Sept. 18 - The bailout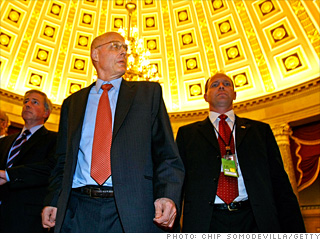 Treasury Secretary Henry Paulson (center) leaves after a meeting with Congressional leaders at the U.S. Capitol Thursday night.
With a crisis on its hands, the Fed convinced five other central banks around the world to
invest a total of $180 billion
in global financial markets.
Meanwhile, AIG was
tossed out of the Dow Jones industrial average
and replaced with food giant Kraft.
The stock market soared
towards the close of the session, with financial stocks rebounding. The Dow added more than 400 points on rumors that an even more extensive federal bailout of the banking industry was in the making. Investors cheered early these reports that the Treasury would create an independent federal agency to take bad loans off bank of balance sheets.
Late Thursday night, Treasury Secretary Henry Paulson met with Congressional leaders to hammer out the details of
a large-scale bailout
.
NEXT: Friday, Sept. 19 - The confidence boost
Friday, Sept. 19 - The confidence boost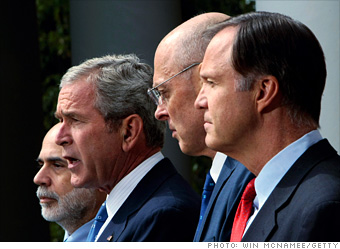 President Bush, with Federal Reserve Chairman Ben Bernanke, U.S. Treasury Secretary Henry Paulson and SEC Chairman Christopher Cox, spoke at the Rose Garden Friday.
As Wall Street eagerly awaited the details of Secretary Paulson's plan, the SEC took what it called "emergency action" Friday morning and
temporarily banned investors
from short-selling 799 financial companies.
The Treasury also said it would
insure up to $50 billion
in struggling money market fund investments at financial companies, guaranteeing that the funds' value will not fall below the standard $1 a share. The Fed also said it would make unlimited funds available to banks to finance purchases of asset-backed commercial paper from money market funds.
In a press conference, Treasury Secretary Paulson
outlined the government's plan
to put up hundreds of billions of dollars to help stem the crisis, saying "the financial security of all Americans ... depends on our ability to restore our financial institutions to a sound footing."
Later, President Bush held
a separate press conference
, flanked by Paulson, SEC Commissioner Christopher Cox and Fed chief Ben Bernanke, saying it was "essential" that the government step in to save the economy.
Investors cheered the moves,
sending stocks soaring
throughout the day.
Although the U.S. government had set various bailouts in motion to the tune of roughly $1 trillion, investors finished the week with renewed confidence that Wall Street may be broken -
but not beyond repair
.
Saturday, Sept. 20 - The plan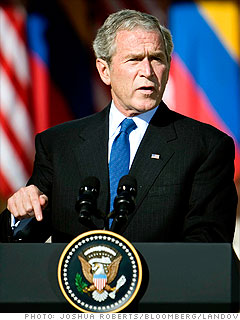 The president, speaking in the Rose Garden, outlines plans for a massive package aimed at stemming the financial bloodletting.
Congress got the
proposed legislation
in the overnight hours. The bottom line: The administration was asking for $700 billion to buy troubled mortgage assets and get the financial system flowing again.
"It is a big package because it's a big problem," President Bush told reporters at a morning news conference. "The risk of doing nothing far outweighs the risk of the package."
The Democrats who run Congress initially indicated they were receptive to the
Treasury proposal
. But as the day wore on, there was a theme sounded by the leadership.
Democrats will seek to "insulate Main Street from Wall Street and keep people in their homes by reducing mortgage foreclosures," said House Speaker Nancy Pelosi, D-Calif., indicating her party would seek other actions aimed at benefiting taxpayers.
NEXT: Sunday, Sept. 21 - The end of an era
Sunday, Sept. 21 - The end of an era
Treasury Secretary Henry Paulson appeared on ABC's 'This week' Sunday.
A week after the collapse of Lehman Brothers and the sale of Merrill Lynch put the cogs in motion, Secretary Paulson was on the Sunday morning talk shows
pitching
his $700 billion bailout proposal.
"The biggest help we can give the American people is to stabilize our financial system right now and to prevent the system from clogging up, because if it does clog up, this is going to have an adverse effect on people's abilities to get jobs, on their budgets, on their retirement savings, on lending for small businesses," Paulson said on ABC's "This Week."
Still, the Democrats said the plan
lacked
necessary safeguards for taxpayers and homeowners.
"We will not simply hand over a $700 billion blank check to Wall Street and hope for a better outcome," Speaker Pelosi said.
But even as the details of the bailout were being hammered out, there were yet more staggering developments in the crisis, effectively ending an era on Wall Street.
Late in the day came the
news
that Goldman Sachs and Morgan Stanley, the two remaining independent Wall Street investment banks, would be converted into traditional bank holding companies, which will increase their regulation by the federal government.
The move was designed to prevent the storied brokerage firms from suffering the same fate as Lehman and Bear Stearns, by giving them access to cheaper, and more stable sources of funding from the retail banking business and from the Federal Reserve.
NEXT: Monday, Sept. 22 - Second thoughts
Monday, Sept. 22 - Second thoughts
Traders crowd the post that handles Morgan Stanley on the floor of the New York Stock Exchange, Monday Sept. 22, 2008.
On Monday morning Wall Street woke up to a new world order, and it wasn't happy. Late Sunday night, the news emerged that Goldman Sachs and Morgan Stanley would
change their status to bank holding companies
, giving them access to Federal funds to help buoy them, and effectively bringing to an end Wall Street as we know it.
A day after its status change, Morgan Stanley announced it
agreed to sell up to a fifth of the company
to Mitsubishi UFJ Financial Group, one of Japan's largest banks.
Meanwhile, news of the massive federal bailout that was greeted with relief on Friday, sending the Dow up 369 points, began to sink in, and
questions emerged
. Taxpayers
were enraged
that Wall Street fat cats would get a handout while ordinary citizens were left to flounder. Members of Congress on both sides of the aisle began gearing up for Tuesday's hearing, expressing concern at the notion of handing Treasury a blank check, and at the plan's lack of oversight.
The markets
expressed their own dismay
, with the Dow closing down 373 points as investors fretted about the bailout. The dollar was crushed, posting its
biggest single-day drop in four years
as traders absorbed just how diluted the bailout would leave the U.S. currency. Meanwhile, oil
surged more than $25
, its biggest dollar gain ever, to $130 a barrel before settling at $120 as big investors scrambled to fill obligations as the October contract expired.
NEXT: Tuesday Sept. 23 - A spirited debate
Tuesday Sept. 23 - A spirited debate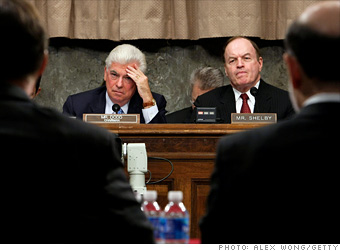 Committee Chairman Sen. Christopher Dodd, D-Conn., (left) and ranking member Sen. Richard Shelby, R-Ala., (right) listen as Federal Reserve Board Chairman Ben Bernanke and Chairman of the Securities and Exchange Commission Christopher Cox testify on Capitol Hill.
Treasury Secretary Henry Paulson and Federal Reserve chairman Ben Bernanke
went before the Senate Banking Committee
to defend the Bush administration's bailout plan in a spirited debate. The two faced strong criticism from both Democrats and Republicans who argued that the program needed more restrictions.
Sen. Richard Shelby of Alabama, the top Republican on the committee, said the government's previous efforts to save mortgage giants Fannie Mae and Freddie Mac, as well Bear Stearns, show the limitations on attempts to fix markets.
"You can't assure us this will work because you thought the other plans would work," Shelby said.
Sen. Jim Bunning, a conservative Republican from Kentucky, said that he could not support the proposal.
"It will not help struggling homeowners pay their mortgages. It will not bring a halt to the slide in home prices," Bunning said. "This massive bailout is not a solution. It's financial socialism and it's un-American."
Lawmakers were also concerned about the program's risk to taxpayers. But Bernanke stressed that most or even all of what the government spends to buy the assets would be recovered when the assets are eventually sold.
Drafts of counterproposals emerged
from both chambers, led by Chris Dodd, D-Conn., in the Senate and Barney Frank, D-Mass., in the House. They want the government to get an equity stake in the companies it helps; more assistance for those at risk of foreclosure; more oversight of the program; and curbs on compensation of executives of participating companies.
There was also some good news. After the market close, Goldman Sachs announced that it will raise capital by
selling $5 billion of preferred stock
to Warren Buffett's Berkshire Hathaway.
NEXT: Wednesday, Sept. 24 - Closer to a deal
Wednesday, Sept. 24 - Closer to a deal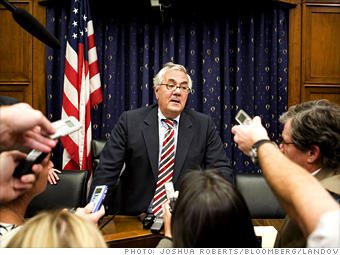 Reporters interviewed House Financial Services Committee chairman Rep. Barney Frank, D-Mass., Wednesday after Treasury Secretary Henry Paulson and Federal Reserve chairman Ben Bernanke were grilled about the rescue plan.
Well before the markets opened, the Fed announced that it would flood the system with even more cash,
making $30 billion available
to the central banks of Australia, Denmark, Norway and Sweden.
Back in Washington, the debate about the Bush administration's proposed $700 billion bailout raged on, this time in front of the
House Financial Services Committee
, which grilled Treasury Secretary Henry Paulson and Federal Reserve Chairman Ben Bernanke over the plan's details.
Progress was reported toward an agreement. Paulson agreed that the bill should curb executive compensation at firms that sign up for the rescue plan, one of the Democrats' key demands. But he remained opposed to allowing bankruptcy judges to change mortgage terms because it's "inconsistent with what we're trying to do, which is increase the flow of funds."
Still under discussion was whether the government should get an equity stake in companies that participate in the plan, and whether the government will encourage foreclosure prevention for the troubled loans it purchases.
Members of Congress demanded to know how they could justify a bailout to their enraged constituents.
President Bush
made a televised speech
Wednesday night to make the case for his plan. "We are in the midst of a serious financial crisis," he said. "Our entire economy is in danger."
NEXT: Thursday, Sept. 25 - Deal, or no deal
Thursday, Sept. 25 - Deal, or no deal
President Bush met with congressional leaders at the White House Thursday, including House Minority Leader John Boehner, R-Ohio (left), Speaker of the House Rep. Nancy Pelosi, D-Calif., and Senate Majority Leader Sen. Harry Reid, D-Nev, to discuss the proposed bailout.
Early in the afternoon, key lawmakers announced that they had reached an agreement on a set of principles for legislation in order to enact the Bush administration's proposal. Markets soared as investors believed the bill would soon be signed.
The proposal would help homeowners, curb executive pay packages at participating firms and provide oversight of Treasury's actions. The Treasury would receive the $700 billion in installments and would also get an equity stake in the companies being helped by the bailout.
A few hours later, when Congressional leaders and presidential nominees Barack Obama and John McCain met with President Bush and Secretary Paulson at the White House,
the negotiations broke down
, revealing a split between Democrats and House Republicans.
House Republicans issued a statement of economic rescue principles that called for Wall Street to fund the recovery by injecting private capital - not taxpayer dollars - into the financial markets. The plan also called for participating firms to disclose the value of the mortgage assets on their books, ending Fannie Mae and Freddie Mac's securitization of "unsound mortgages," reviewing the performance of the credit rating agencies, having the SEC audit failed companies to ensure their financial standing was accurately portrayed, and creating a panel to make recommendations for reforming the financial industry by year's end.
Late-night talks between lawmakers and Treasury Secretary Henry Paulson failed to end in agreement, shattering any hopes of a clean, bipartisan legislative effort, and putting in jeopardy chances of passing a bill by the end of the week.
Then, in another stunning event,
Washington Mutual collapsed late Thursday night
, marking the biggest bank failure in history. But after the troubled thrift was seized by the FDIC, federal regulators helped orchestrate a deal in which JPMorgan Chase paid $1.9 billion for WaMu's assets.
NEXT: Friday, Sept. 26 - Back to the bargaining table
Friday, Sept. 26 - Back to the bargaining table
Sen. John McCain, R-Ariz. and Sen. Barack Obama, D-Ill., squared off in the first presidential debate Friday night, where the economy was front and center.
Wall Street was a grim scene Friday morning. Stocks were looking at a tough session after news of Washington Mutual's collapse the night before and fears that partisan bickering would further delay the Bush administration's $700 billion financial rescue plan.
Capitol Hill negotiators returned to the bargaining table Friday to work on details of the plan, while President Bush and leading lawmakers offered assurances that Congress and the administration would hammer out a deal.
Stocks stumbled through much of the day, but they rallied toward the end of the session on news that bailout talks has resumed, with Republicans and Democrats working towards a compromise. Investors positioned themselves for a Monday rally, on the hopes that a deal would be made by Sunday.
For a time, the first presidential debate that was scheduled for Friday night hung in the balance. Sen. John McCain, R-Ariz., said that working on the bailout was more important than campaigning, and he decided to return to Capitol Hill to help work on a plan. But Sen. Barack Obama, D-Ill., said there was no need to cancel or postpone the debate.
In the end, the candidates decided to go ahead and face off at the University of Mississippi, where the
nation's economic crisis
took center stage early on.
NEXT: Saturday, Sept. 27 - Bailout breakthrough
Saturday, Sept. 27 - Bailout breakthrough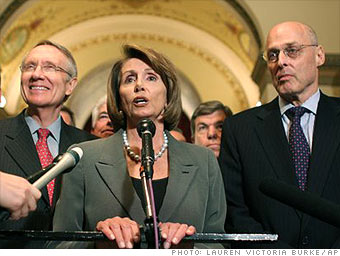 Speaker of the House Nancy Pelosi, D-Calif., Secretary of the Treasury Henry Paulson, right, Senate Majority Leader Harry Reid, D-Nev., left, announce a tentative deal on legislation regarding the financial crisis.
After a late-night bargaining session, negotiators resumed talks Saturday afternoon over the $700 billion bailout plan with fewer than a dozen "unresolved issues" remaining, according to a senior administration official.
Signs of progress appeared early on from both Republican and Democratic lawmakers who said they were shooting for a deal by Sunday.
But a group of House Republicans said they would not be held to any "artificial timelines." Still, they remained confident a deal could be reached that helped the financial system but protected taxpayers.
Negotiators had talked by phone with billionaire investor Warren Buffett for guidance, and according to two sources, he warned if congress did not act, the nation would face the "biggest financial meltdown in American history."
Finally after midnight, congressional leaders said they reached a tentative deal and were aiming to craft final legislation by Sunday evening - in time for the start of financial markets around the world.
Key points included who would oversee the program, when the money would go out, government stakes in companies to mitigate taxpayer losses and curbs on executive compensation.
NEXT: Sunday, Sept. 28 - Hard-won agreement
Sunday, Sept. 28 - Hard-won agreement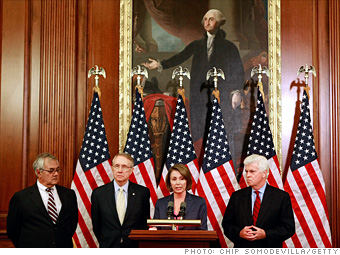 (L-R) House Financial Services Committee Chairman Barney Frank D-MA, Senate Majority Leader Harry Reid D-NV, Speaker of the House Nancy Pelosi D-CA, and Senate Banking, Housing and Urban Affairs Committee Chairman Christopher Dodd D-CT, hold a news conference at the U.S. Captiol September 28, 2008 in Washington, DC to announce the final bailout agreement.
After days of intense negotiations on Capitol Hill, lawmakers unveiled the bailout's final legislation late Sunday afternoon. The bill calls for Treasury to buy as much as $700 billion in troubled mortgages and other assets from financial institutions, which was what Treasury Secretary Henry Paulson proposed when he first announced the plan on Sept. 18.
But the bill, which will go to the House for a vote on Monday and to the Senate on Wednesday, contains provisions addressing some of lawmakers' concerns about the burden that the bailout could have on taxpayers.
The $700 billion would be disbursed in stages, with $250 billion made available immediately for the Treasury's use. And although experts expect Treasury to be able to sell the troubled assets for more than they bought them for, the bill says that the president must propose legislation to recoup money from the financial industry if the rescue plan results in net losses to taxpayers at the end of five years.
In addition, Treasury would be allowed to take ownership stakes in participating companies. The legislation also requires the government, as the owner of mortgage loans, to try to modify more troubled loans. There will be limits on executive compensation for participating companies, and two oversight board established to guide the program.
As history was unfolding in Washington, there was yet more drama developing. In Europe, Dutch-Belgian bank and insurance giant Fortis NV received a 11.2 billion euro ($16.4 billion) lifeline by authorities in Belgium, the Netherlands and Luxembourg. And on Wall Street, a bidding war erupted for the troubled bank Wachovia between banking giants Citigroup and Wells Fargo.
NEXT: Monday, Sept. 29 - Crushing defeat
Monday, Sept. 29 - Crushing defeat
A trader takes a break as the Dow Jones Industrial Average plummets Monday, Sept. 29, 2008, in front of the New York Stock Exchange in New York.
In a stunning development, the House of Representatives voted down the $700 billion financial bailout plan by a 228-205 margin after working days to hash out an agreement. Two-thirds of Republicans and one-third of Democrats voted against the measure.
The defeat shocked the world, following pledges by leaders of both parties to work together to avert economic disaster. Markets in the U.S. and abroad reacted with alarm. The Dow plunged 777 points, its largest one-day point drop ever, while Japan's Nikkei lost 4%, Australia's markets fell 4.3% and Taiwan's stocks retreated 3.6%.
It was unclear how Congress would proceed with the legislation.
Earlier in the day, Citibank agreed to buy Wachovia bank's assets for $2.2 billion in an FDIC-arranged deal, while Lehman Brothers sold its Neuberger Berman investment management unit to a pair of private-equity firms for $2.15 billion.
Additionally, a federal grand jury launched an investigation into accounting and disclosure issues at Fannie Mae and Freddie Mac, the mortgage finance giants that were taken over by the government earlier this month.
NEXT: Tuesday, Sept. 30 - Rebound
Tuesday, Sept. 30 - Rebound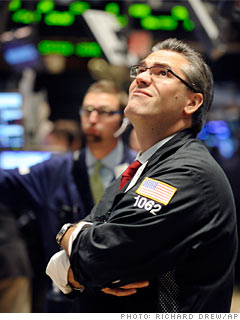 Trader watches the numbers as he works on the New York Stock Exchange floor. Dow industrials finish up 485 points.
After getting smacked down by the sudden defeat of the bailout plan in the House, stocks made a comeback as investors bet that lawmakers would eventually agree on a plan to rescue the economy.
The Dow Jones industrial average rose a whopping 485 points, making up much of the historic 777 point loss in the previous session.
But the credit markets remained frozen. And several closely watched measures of bank lending fear hit all-time highs, as firms continued to hoard funds.
Most of the gains came late in the session after the Federal Deposit Insurance Corporation said it wants to temporarily increase the amount of money it can insure.
The agency's request to raise its $100,000 insurance limit was aimed at making anxious businesses and consumers less likely to withdraw funds from struggling banks. It was also seen by many as an attempt to sway critics of the $700 billion bailout plan.
House lawmakers adjourned for the day in observance of the Jewish New Year. President Bush, meanwhile, took to the airwaves to express his disappointment in the bailout's failure.
"Our economy is depending on decisive action from the government," Bush said. "The sooner we address the problem, the sooner we can get back on the path of growth and job creation."
The bill was set to
head to the Senate
Wednesday.
Wednesday, Oct. 1 - The first hurdle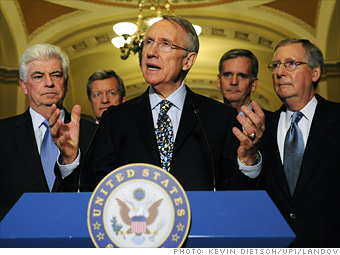 Senate Majority Leader Harry Reid, D-NV, center, speaks alongside Sen. Chris Dodd, D-CT (L), Sen. Max Baucus, R-MT.,(2nd-L), Sen. Judd Gregg, R-NM, (2nd-R) and Senate Minority Leader Mitch McConnell, R-K, at a press conference following the Senate's vote on the financial sector bailout legislation.
With credit market gauges showing historically tight lending, investors again were fearful that the government's financial rescue plan would not make it through a widely anticipated Senate vote.
But lawmakers came through Wednesday night, as the Senate passed a modified version of the bill that the House of Representatives rejected on Monday.
The Senate version included a number of new provisions aimed at Main Street, and intended to attract more votes from House Republicans, two-thirds of whom voted against the initial bailout plan. The modifications include temporarily raising the FDIC insurance cap to $250,000 from $100,000, extending renewable energy tax breaks and another year of relief from the Alternative Minimum Tax.
The revised measure was passed by a vote of 74 to 25 after more than three hours of floor debate in the Senate. Presidential nominees Sens. Barack Obama, D-Ill., and John McCain, R-Ariz., voted in favor.
NEXT: Thursday, Oct. 2 - Wait and see
Thursday, Oct. 2 - Wait and see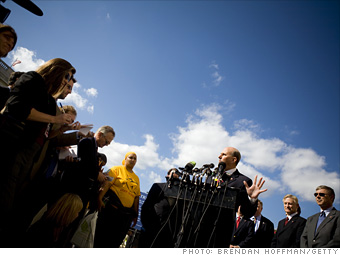 Rep. Thaddeus McCotter, R-MI, speaks at a news conference held by House Republicans who remain opposed to the financial bailout package on October 2, 2008 in Washington, DC. (Photo by Brendan Hoffman/Getty Images)
The House took a day to mull the Senate's sweetened financial rescue bill before a Friday vote, and the legislation's prospects improved, although there were still hold outs (see photo, right).
Meanwhile, investors feared that the economy needed a boost beyond the government's plan. Economic reports showed signs of continued weakness Thursday. Weekly jobless claims soared to a seven-year high Thursday, alarming investors ahead of Friday's big monthly report. And factory orders slumped to a 2-year low.
Fearing a weakening economy would further quash demand for petroleum products, oil prices fell more than $4. The Dow closed down 348 points.
Fears of a recession only made the stranglehold on credit even tighter. Key measures of lending showed banks hoarding cash with an historically high aversion to risk.
As a result, analysts and economists began to predict that the Federal Reserve would cut its key funds rate by as much as a half percentage point to boost liquidity in the markets, in an attempt to stave off a recession.
NEXT: Friday, Oct. 3 - Bailout becomes law
Friday, Oct. 3 - Bailout becomes law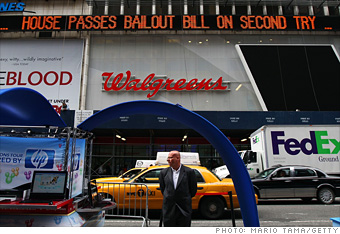 A man looks on beneath a Times Square news ticker announcing the Congressional bailout bill passage October 3, 2008 in New York City. (Photo by Mario Tama/Getty Images)
Just hours after the Labor Department reported the biggest drop in jobs in more than five years, the House finally passed a far-reaching plan to bail out the nation's financial system.
The 263-to-171 vote was the result of strong lobbying on the part of the White House and other supporters of the bill all week. After being amended by the Senate to include key sweeteners, including several tax breaks and an increase in the FDIC insurance cap to $250,000 from $100,000, members on both sides of the aisle agreed to switch their votes from "No" to "Yes." President Bush signed the bill into law later in the day.
Earlier Friday, Wachovia and Wells Fargo announced plans to merge, just four days after Citigroup said it would pay $2.2 billion for Wachovia's banking assets. Citigroup demanded that Wachovia and Wells Fargo terminate the proposed deal, valued at approximately $15.1 billion.
Banks weren't the only one scrambling for cash. California Gov. Arnold Schwarzenegger told the Treasury Secretary that the credit freeze had shut down funding for the state, which may need a $7 billion emergency loan from the federal government.
The Dow closed down 818 points for the week, it's worst week in seven years.
NEXT: Saturday and Sunday, Oct. 4-6 - Battle of the banks
Saturday and Sunday, Oct. 4-6 - Battle of the banks
Wachovia Corp's chief executive Robert Steel tried to complete a sale of the bank to Wells Fargo over the weekend.
The battle between Citigroup and Wells Fargo for Wachovia raged on over the weekend.
On Saturday, a New York State Supreme Court judge temporarily blocked the merger of the troubled bank with Wells Fargo.
That ruling was overturned on Sunday, but then Citigroup appealed the decision. Wachovia countered that the Wells Fargo deal would be better for shareholders and taxpayers, since the FDIC backstopped the original Citi deal.
Also Sunday, Massachusetts asked both the Treasury and the Fed for help in raising short-term funds amid the frozen credit markets. Much like the request made by California on Friday, Massachusetts wanted loans to help pay for state operations.
On Sunday night, bailout news began to emerge from Europe. The German government announced it would rescue Hypo Real Estate AG for $69 billion, and guaranteed all of its deposits.
And in a deal with the Belgian government, French bank BNP Paribas took a 75% stake in fast-sinking Belgian bank Fortis NV.
NEXT: Monday, Oct. 6 - A bigger lifeline
Monday, Oct. 6 - A bigger lifeline
Traders file out of the New York Stock Exchange Monday after stocks at one point dropped by a single-day record of 800 points.
As a stopgap until the Treasury's $700 billion financial rescue went into effect, the Federal Reserve announced Monday that it would double the amount of money it makes available to the nation's banks through auctions.
The Fed said it would make $600 billion available to banks through its Term Auction lending facility, and it signaled that number could increase to $900 billion later in the year.
But as investors realized that the government's bailout bill was not a cure-all, stocks went into a tailspin. The Dow sank a record 800 points before recovering somewhat, but it closed below 10,000 points for the first time since 2004.
Later Monday afternoon, Bank of America reported a 68% drop in profits and cut its dividend. The bank, which rescued both Countrywide Financial and Merrill Lynch in 2008, said it will raise $10 billion through a stock sale.
Meanwhile, Wells Fargo and Citigroup both agreed to a legal standstill in their battle for Wachovia.
NEXT: Tuesday, Oct. 7 - New kind of bailout
Tuesday, Oct. 7 - New kind of bailout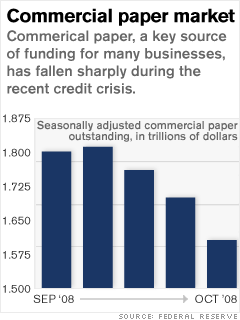 In yet another move to encourage lending between companies, the Fed announced a new program Tuesday that would help businesses by buying up their short term debt, also known as commercial paper.
The short-term lending market had frozen, and companies began to worry that they would not be able to get the loans necessary to pay their bills or make payroll. The Fed stepped in hoping to restore confidence to a corporate borrowing market that had shrunk by 11% in three weeks.
But the news didn't do much to unfreeze the credit markets. Several key measures only eased very slightly, while the yield on the 3-month Treasury momentarily jumped above 1% for the first time in two weeks.
In a speech that day before the National Association of Business Economics in Washington, Fed chief Ben Bernanke said the economic outlook had worsened, and the financial crisis will hurt the economy well into next year. He also implied that more interest-rate cuts were on the way.
Later, the Fed reported that borrowing by consumers fell in August for the first time in more than 10 years, as budgets tightened and credit became scarcer.
Investors didn't like what they heard, and stocks fell to five-year lows. The Dow tanked another 500 points.
NEXT: Wednesday, Oct. 8 - Global coordination
Wednesday, Oct. 8 - Global coordination
The Bank of England cut its rates by a half percentage point Wednesday as part of a global effort to slash rates.
With the credit crisis battering banks around the globe, European regulators stepped in early Wednesday. The Bank of England announced a plan to inject $43.7 billion into the banking system, and other European banks made billions of dollars of overnight funds available to banks.
Investors weren't impressed, and stocks fell worldwide. Then, in an attempt to boost economies around the globe, at 7:00 a.m. ET, the central banks of the United States, Canada, England, the European Union, Sweden and Switzerland announced a coordinated plan to cut interest rates.
The Fed cut its key funds rate to 1.5% from 2%, and most other banks slashed rates by a similar amount.
The plan was at first met with cheers, but then skepticism again took hold, and stocks fell. Credit market measures soared to all-time highs, signaling no change in the tight lending market.
NEXT: Thursday, October 9 - The search for a bottom
Thursday, October 9 - The search for a bottom
Specialist Justin Bohan holds his head as stocks plunged in the final minutes of trading Thursday, sending the Dow Jones industrials down more than 7 percent, to their lowest level in five years. (AP Photo/Richard Drew)
On Thursday, the Treasury Department said it was actively looking at buying equity stakes in some of the country's banks, in order to inject capital directly into the troubled financial system.
But the market registered a vote of no confidence anyway. The Dow closed down 687 points Thursday -- off over 2,200 in the previous seven trading sessions.
Credit remained in a deep freeze; the level of outstanding commercial paper fell by $56.4 billion, or 3.5%, in just the past week, to $1.55 trillion.
U.S. automakers were also on the ropes, after Standard & Poor's said that it was putting both GM and Ford on credit watch negative. Shares of GM closed down 31% to $4.76, while Ford fell nearly 22% to $2.08, effectively putting two American industrial icons on death watch.
NEXT: Friday, October 10 - Vertigo
Friday, October 10 - Vertigo
Traders on the floor of the New York Stock Exchange pause to watch President Bush speak. (AP Photo/Richard Drew)
President Bush addressed the nation and encouraged the American people to have confidence in the economy during a "deeply unsettling period" - but with the Dow losing nearly 700 points in the first five minutes of trading, that was an understatement.
It was a volatile day on Wall Street as further signs of economic distress emerged. At one point the Dow dipped below the 8,000 mark, but ultimately closed down 128 to 8,451.19.
Market bellweather GE reported a 22% drop in net income to $4.3 billion for the third quarter, in line with expectations. Earnings from continuing operations fell 10% to 45 cents per share while revenues grew 11% to $47.2 billion.
Oil prices plunged more than $9 to a 13-month low Friday on fears that the weakening global economy would drive down demand for oil.
And General Motors had to issue a statement denying that it was considering bankruptcy after its shares lost 31% on Thursday, when it closed at just $4.76, the stock's lowest price since 1950. GM shares ended Friday's session at $4.86.
Meanwhile, news emerged that House Democratic leaders are assembling a second economic stimulus package, which could cost as much as $150 billion, and will be geared toward helping struggling state and local governments.
The week wrapped with the finance ministers of the world's leading industrialized nations, the G-7, set to meet in Washington over the weekend to hammer out a plan of coordinated actions that will restore confidence and stability to world markets.
(source cnn money.com)
courtesy to cnnmoney team members.
kpastroakella.